Friday evening was another one of those great gigs you get from time to time. I got a call from my colleague and friend, Brad Nau to shoot a few elements for a documentary he's working on.
Brad is a true inspiration to film and video storytellers who care about their craft. He does more good work with minimal gear than anyone I have ever known. He's living proof that a great story is 10 percent gear and 90 percent attitude and approach.
Brad is working on a documentary about America's Showplace, the legendary Spectrum in Philadelphia. The 40+ year old building is set to be torn down in the near future and Brad's work will touch on the musicians, athletes, broadcasters, writers and fans who have made the Spectrum one of the truly great American venues.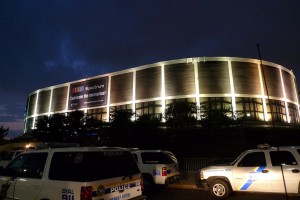 The Spectrum – "America's Showplace"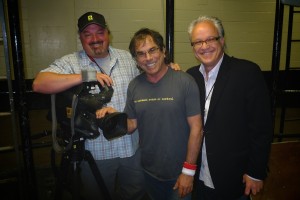 Rob Parker, Mickey Hart, Brad Nau – May 1, 2009
Friday night we interviewed legendary broadcaster Tom Lamaine and Grateful Dead drummer Mickey Hart, two personable guys from two completely different backgrounds who are connected through this building.
"Building a Memory" will likely debut in August on Comcast SportsNet.