This was a really rewarding Super Bowl for me. I had a ton of fun shooting for Showtime last year but most of game day was spent off the field as I ran around getting shots of the Lonbardi trophy, championship merchandise and other behind the scenes stuff.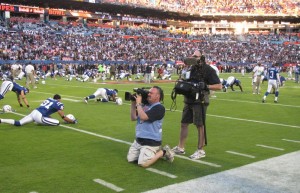 Rob Parker and Nick Kolias shoot during pregame (photo credit Joe Thiel)
click image to enlarge
This year NFL Films thought enough of me to assign me as the "A" camera for the Disney commercial that they've produced for the last twenty-odd years. It's the 3rd time I have done the Disney shoot but I have never been the main ground camera. Even so, I managed to get Heinz Ward on camera when he was the MVP of Super Bowl XL in Detroit.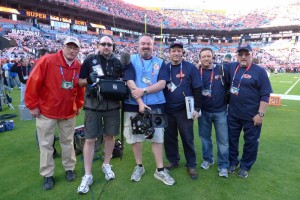 Disney commercial crew (L – R) Jerry the security guy (Tampa), Nick Kolias/sound (Seattle), Rob Parker/camera (Philly), Kevin Young/Disney producer (Orlando), Bob Hitchcock/Disney runner (Orlando), Jim Scully/production ace and life line (Chicago). (photo credit Pat Maher)
click image to enlarge
This game was close until the end and that makes for some interesting tension in the Disney realm. No one was sure who we'd be focusing on until there were just a few seconds left in the game.
As the final seconds were ticking off the clock, we got word that we'd be going for Drew Brees. My soundman Nick Kolias and our security guard Jerry grabbed my shirt and we sprinted for Brees. I knew it was going to be an absolute scrum and it didn't disappoint.
To my absolute elation, our runner Jim Scully had beaten us out there and was holding Brees by the waist, guiding him to us as best he could. Jim told Drew we were the Disney crew and Brees agreed to deliver the lines just as soon as he hugged a few guys and delivered the first official sound bites to the League reporter who was standing with us.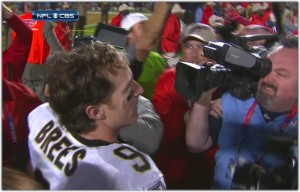 Getting into position, ready for Brees to deliver the line. (screen grab credit Carl Koster)
click image to enlarge
By this time the scrum was thinning a bit and it became easier to get our bearings. Brees was facing my camera as he finished with the League reporter. I yelled, "Drew, I'm goin' to Disneyworld!" He repeated it. "Say it again!" I yelled. "I'm goin' to Disneyworld!"
What a pro. We had him do Disneyland as well and he delivered it twice with gusto.
We wrapped up by shooting some shots of Brees celebrating and hoisting the Lombardi trophy.
The footage from my camera, two other ground crews and a few CBS cameras was digitized into the editing system on location and the final product was prepared for broadcast.
Back in the film days, the Disney commercial always aired the following day. Then when they started shooting video, the commercial would air just after the game ended. That proved to be too much to tackle and now it generally makes its debut on SportsCenter on Monday morning.