Some of you may be old enough to remember a time when most of our possessions weren't disposable. Remember when there were screws and latches and things could be repaired? Times sure have changed.
One of my recent projects has been to dub a bunch of old 3/4-inch U-matic videotapes to some newer – albeit disposable – medium. Thro-quo, as a few of my colleagues used to call it, was the first respectable portable shooting and editing video format for the broadcast industry. It was state of the art at one time and the stuff was darn-near indestructible.
I spent my early years in television news toting a tiny, single-tube camera on my right shoulder and a 40-pound 3/4-inch deck on the left. The two were connected by an 8-foot umbilical cord that transferred the images and sound from the camera to the tape. Old school for sure.
During my dubbing duties, I encountered a tape that had snapped inside the case. I needed to do some surgery if I was going to get that valuable old footage off the tape.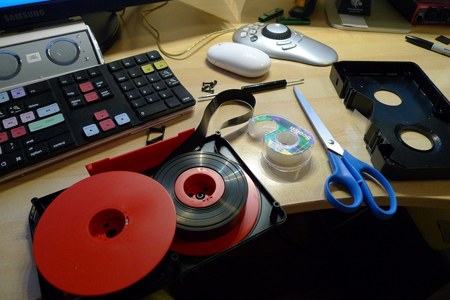 Way back in college I had an excellent audio teacher named Andy Skitko. In those days, I thought Mr. Skitko was cool because he drove a Volkswagen and I was really into them. Today, I think he's cool because I was able to use the techniques that he taught me to successfully repair magnetic tape the old fashioned way, with scissors and scotch tape.
The 5 large screws prove that those old U-matic tapes were made to be taken apart and fixed. A few minutes later I was back in Moneyfall business, archiving those old memories and toasting Mr. Skitko.