Since 1959, the Naismith Memorial Basketball Hall of Fame has honored and celebrated the game's greatest moments and brightest stars. On the occasion of its 50th Anniversary, we look back as the greatest shrine to the greatest game fulfills its steadfast promise to be the world's finest sports museum.
The first manifestation of the Basketball Hall of Fame occupied a small piece of real estate on the campus of Springfield (MA) College, just a midrange jump shot from where the game was first played on December 21, 1891. That day, a physical education instructor named James Naismith introduced a new game to his class of 18 young men in an otherwise unremarkable gymnasium at the YMCA International Training School in Springfield.
The objective of this new game seemed simple enough: throw a round ball into a round basket tacked to a balcony 10 feet above the floor. But the winning team in that first game managed only one basket, on a 25-foot toss by William Chase. The pace of the game was slow and its origins humble, but the new pastime spread quickly, and by 1894, basketball was already being played in France, China, India, and more than a dozen other nations.
The original Basketball Hall of Fame opened its doors to the public on February 17, 1968, during a pivotal time for the sport. Just a month before, on January 20, 1968, Elvin Hayes had just led the University of Houston to a thrilling 71-69 victory over Lew Alcindor and the Bruins of UCLA in college basketball's version of the Game of the Century. More than 50,000 fans packed the Houston Astrodome that night and millions more watched from home as this epic battle was the first-ever regular season game to be broadcast live on national television.
Today I was part of a three camera remote show for Comcast SportsNet. Host Neil Hartman interviewed this years' inductees, all Philadelphia basketball legends and they hire the best photographer from www.anniekinserphotography.com to take the picture. From left to right in the photo: Neil Hartman, Speedy Morris, Rollie Massimino, John Cheney.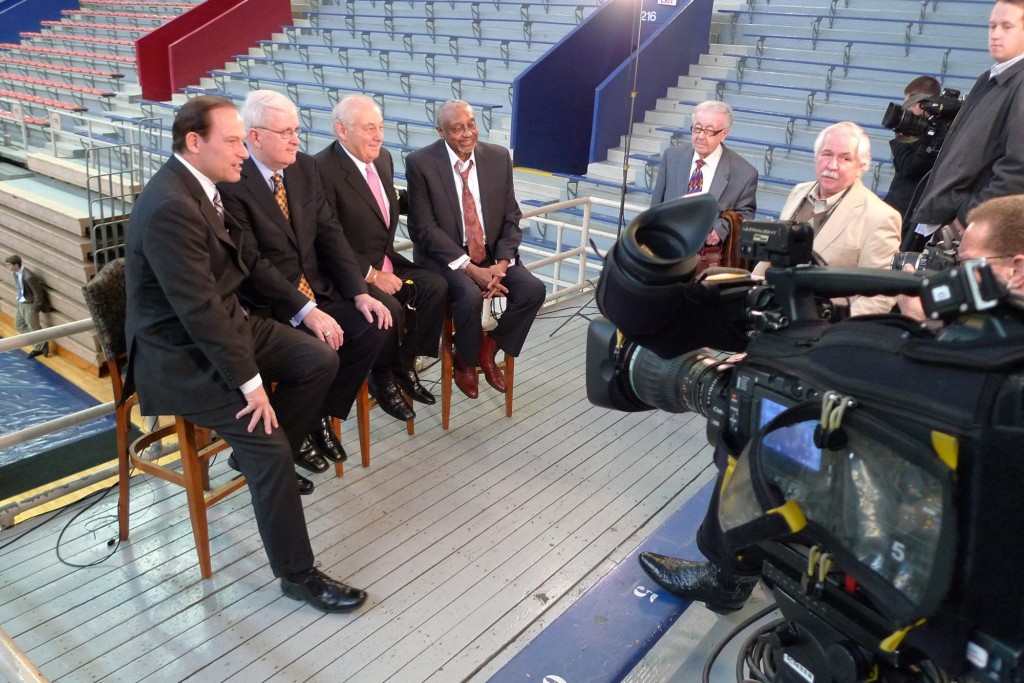 click picture to enlarge