Last night I shot some stuff for an old colleague, Gerald Kolpan. I had he good fortune to work with Gerald for 9 years at FOX in Philadelphia. Some of my favorite work from that era of my career was done with Gerald. He's a masterful writer and a truly decent guy and so when I heard he was venturing out on a tour to support his novel, I asked if I could help with some video.
Gerald's website says of "Etta: A Novel" – "Beautiful, elusive, and refined, Etta Place captivated the nation at the turn of the last century as she dodged the law with the Wild Bunch, led by Butch Cassidy and the Sundance Kid. Her true identity and fate have remained a mystery that has tantalized historians for decades."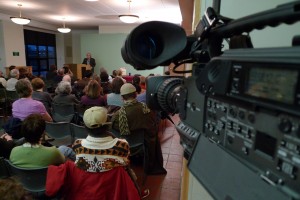 Gerald gave an interesting talk and read some excerpts from the book. I'm looking forward to reading it. The high point of the night was when Gerald was questioned about his decision to write a book that combined facts with a ton of fiction. Gerald explained, "It's basically a bunch of lies based on actual events. Kind of like TV news."
The crowd roared.